Companies will need to pay a lot more attention to their sustainability initiatives from January 2024 if they want to be prepared for the EU Corporate Sustainability Reporting Directive, which will take effect in 2025. Associate Professor at ISM University of Management and Economics and sustainability expert Dr Jonathan Boyd claims that hundreds of Lithuanian firms will be obliged to report under this new directive. He is surprised that until now most companies are unprepared for these imminent changes. Specialists who can help enterprises to face new challenges are soon coming to market. However, there will be more demand for these kinds of specialists than supply, Dr Boyd states. Therefore, companies should pay attention to employees' sustainability training.
Have we reached the point when organisations hire sustainability specialists?
There's no doubt about it. There's a massive shift underway as much of the world transitions to a green economy, and green skills and green jobs are urgently needed. To clarify, when I say "green skills", I mean those that enable the sustainability of economic activities, and "green jobs" are those that require extensive knowledge of green skills.
Now, a lot of companies, both in Lithuania and across Europe, have been dragging their feet on starting their own journey towards this transition. But all that is about to change drastically. In January, the EU released a Directive that details new rules on corporate sustainability reporting. It's a game changer and is going to result in a "green jobs" boom in the EU and here in Lithuania: at the very least, organisations will need to train or hire sustainability experts to measure, track, implement, and report on their impacts to meet the requirements set out in the Directive.
But one of my chief concerns is that organisations are simply not ready for this. Right now, there's a sustainability skills gap: organisations need far more people with green skills than the labour market currently produces. For example, LinkedIn and Microsoft produced a report on green jobs last year, and they discovered that globally, while job postings requiring green skills grew at 8% annually over the past five years, the share of green talent has grown at roughly 6% annually in the same period. And my guess is that over the next few years in the EU, while organisations start grappling with their new reporting and disclosure requirements, this gap will grow even wider.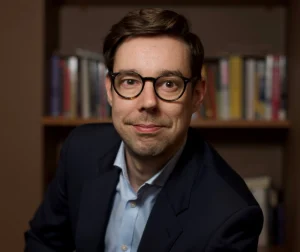 You are sustainability expert yourself: how have you came up with the idea to follow this path?
Well, reflecting on the origins of it, I think a lot of it came from my upbringing. My father was a Scottish immigrant to Canada, and he had a real respect for nature and had deeply held conservationist values. Meanwhile, he was also an engineer working in the steel industry, and was firmly pro-growth and pro-industry. So within him was what today might be seen as an uneasy dilemma: he worked in a polluting industry, but he hated pollution. And to resolve or address that internal dilemma, he worked hard to ensure his steel company was as clean and efficient as possible. And that attitude also mirrors that of my hometown Hamilton, Ontario: it was a steel-town that was one of North America's largest steel producers, but it was also surrounded by a UNESCO World Biosphere Reserve that its citizens were proud of and sought to preserve. So inherently, people raised in that city were industrialists with conservationist values, as odd or as impossible as that may sound. And I myself share that attitude of my dad and my hometown. And we now have the technological capabilities to resolve my dad's dilemma, economic growth can and must be achieved sustainably.
Can you expand your thoughts on this European Union directive?
It all stems from the European Green Deal, which is the EU's ambitious plan to transition to a green economy and be a climate-neutral continent by 2050. To achieve that, the EU has created the Sustainable Finance package, which will channel private investment to firms that support the transition. But how will investors, civil society organisations, consumers and other stakeholders evaluate the sustainability performance of companies? Well, this is where the Corporate Sustainability Reporting Directive (CSRD) comes in: it will require large companies and listed companies to publish regular reports on the social and environmental risks they face, and on how their activities impact people and the environment.
How many companies will need to report in Lithuania?
This isn't necessarily new – around 11,000 companies in Europe have already been making such non-financial disclosures. But it's the scope of the CSRD that is such a game-changer: from 2025, this will expand to over 50,000 companies, and by my estimate this will require a few hundred Lithuanian companies to report. And even when Lithuanian companies don't meet the threshold of those that must directly report, analysts expect that there will be a massive "downstream" effect, that is, smaller firms below the threshold that supply or have business relationships with larger firms will be expected to contribute to the larger firms' reports. It will, in short, soon become as common and as necessary as financial reporting.
Are Lithuanian companies ready for this transition?
Well this is why I'm wanting to spread the word and communicate the urgency to Lithuanian businesses. Imagine if you had never kept a financial receipt, you had no financial processes, you had no accountants on staff, no CFO, and then I told you in two years you're going to have to suddenly produce robust financial disclosures and receive external assurance, in other words, third-party audits. You would panic, right? Well I think it's a similar situation here. The vast majority of companies in Lithuania simply aren't prepared for the CSRD.
Nor are these simple reports, they're very complex. Much of the reporting standards are based on the GRI, the Global Reporting Initiative. And I actually happen to be a GRI Certified Sustainability Professional, so I can personally attest to this: it's no easy task to produce such a report, it's time-consuming, detailed, precise, expert work.
So Lithuanian companies need to get the ball rolling, now. Find out if your organisation meets the reporting threshold. Discover what sustainability competencies your staff members may already have. Get your team trained. Consult your legal and regulatory teams. Find a good consultant if need be. But whatever you do, don't ignore this: get moving.
Do you think that companies themselves should invest into sustainability education?
I do, absolutely, it's in their self interest. First, with all the regulatory measures coming down the pipeline, firms are going to need a significant amount of organisational-level green skills and knowledge. Second, and more generally, green skills represent the human capital that will power the green transition. I'm a university professor and I'm teaching such green skills to Lithuanian students, but the transition is happening at such a quick pace that companies don't have the time to wait for a new generation of green-skilled workers. So that means, to put it bluntly, they need to upskill their current employees.
How to do that? Well, just as one example, there are locally available study programmes in sustainability: ISM University, for example, has just launched a Master's programme in Sustainability that I teach a class on, and this year, my students were all in full-time employment and were looking for green skills and knowledge to advance in their firms who were in need of such skills.
But the bottom line is, if companies hope they will find the expertise they need externally, on the labour market, they're going to be facing either a bidding war or an outright deficit. So I think the most economical and pragmatic approach is to upskill your own employees.
What competencies do sustainability specialists need to have?
That's a tough question because it's a massive field. I think a good way to start looking at it, though, is by looking at what green skills are currently in demand. A LinkedIn report last year listed the following as the top in-demand green skills required by employers: sustainability; remediation; occupational safety and health advisor; climate; renewable energy; environmental awareness; environment; health and safety; solar energy; corporate social responsibility; and recycling.
As you can see it's quite a mixed bag, and as you can imagine, the competencies vary widely depending on the country, sector, industry, size of firm, etc. For example, let's say you're looking at the automotive industry, the top green skills there are electric vehicles, energy storage, battery management, etc. Or when it comes to sectors, the ones with the most intense needs for green skills are corporate services, manufacturing, energy & mining, public administration, and construction. Each one has its own unique green skills required, but what's important to emphasise is that green skills, across the board, are growing in demand, but so far, the supply is lagging.
What are the sustainability areas that sustainability specialists should concentrate on the most?
We know what a CEO is and does, and a CFO, and a COO, and so to approach this question is may be worthwhile to look at the emerging role of the CSO, or Chief Sustainability Officer, which is the top job for any sustainability specialist. Just a month ago, Harvard Business Review, noting that more CSO's were hired last year than in the last five years combined, wrote what exactly the critical tasks of this emerging job are: 1) ensuring regulatory compliance; 2) ESG monitoring and reporting; 3) overseeing the portfolio of sustainability projects; 4) managing stakeholders' relationships; 5) building organisational capabilities; 6) fostering cultural change; 7) scouting and experimenting; and 8) embedding sustainability into processes and decision-making. What's also notable is what CSO's are spending the most time and effort on, and by far and away, it's the first two. So for now, regulations and directives such as the CSRD are clearly the main priorities, and I expect that will be the case for the foreseeable future.
Learn more about International Master's Business Sustainability Management programme HERE.