Dr. Dalius Misiūnas, the current President of ISM University of Management and Economics, will continue to lead ISM until 2027, following the decision of the University Board.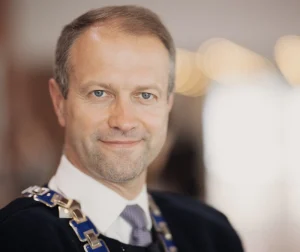 According to the ISM Statute, ISM Board regulations and in line with international practice, the ISM University Board holds the authority to re-appoint the President for the second term. The Board justifies this decision based on ISM's exceptional results in business development and the academic field in recent years. Dr. Ramon O'Callaghan, the Chairman of the Board, spoke on behalf of the Board, in saying that they are happy with the results of the last four years.
"It has been a period in which ISM, despite serious external challenges, has experienced consistent growth in student numbers and financial results, as well as solid academic output and, of course, the move to the new building. Thanks to the work of Dalius Misiūnas and his team, ISM is a stronger institution financially, operationally, and academically. It also has a stronger brand, more visibility, and a clear sense of community. We, the Board, recognize that Dalius Misiūnas has charted the strategic direction with great success, and are confident about his leadership at the helm of ISM for the next 4 years. Therefore, we have asked Dalius to continue for another term."
Dr. Misiūnas, along with the team, affirms their commitment to the university's vision of creating value for the entire ISM community and implementing projects that keep the university one step ahead. Expressing gratitude, the President acknowledges the trust of the Board and the collective efforts of the ISM community in successfully implementing numerous important projects for the university.
"We are faced with boundless opportunities, including technology and sustainability, which demand a fresh approach to education and the university. I will continue to strive for ISM to provide the highest quality education, nurture present and future leaders capable of embracing the opportunities of our time," emphasized the President.
According to Dr. Misiūnas, the greatest strength of ISM has always been its unique community comprising students, alumni, academic and administrative staff, and corporate partners. "I will ensure that this community continues to thrive, and ISM remains a platform for professional and personal growth, creating value for society," he emphasized.
Dr. Misiūnas was initially elected for his first term at ISM University in May 2019.