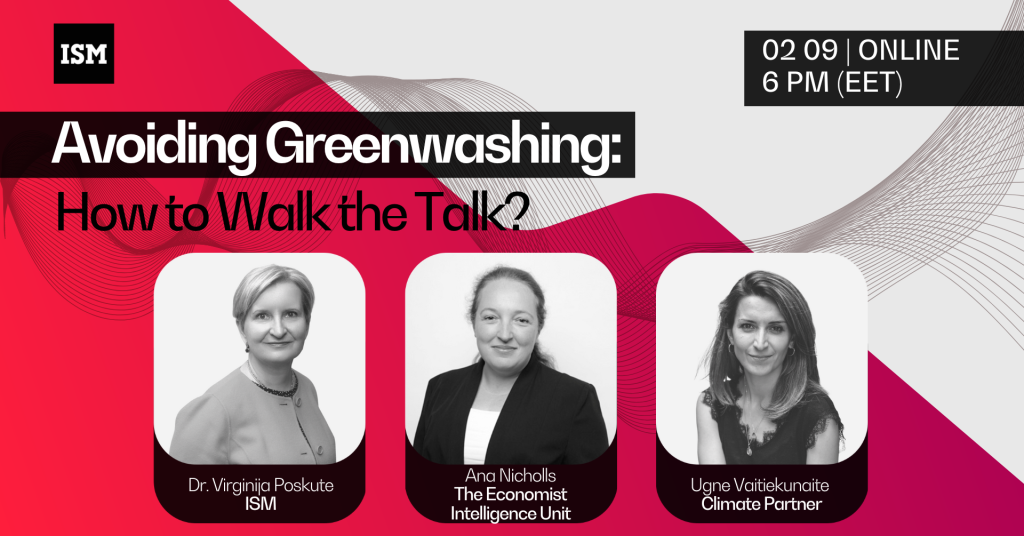 Exclusive opportunity: speakers from the Economist Intelligence Unit, Climate Partner & ISM.
Register below. Event is free and will take place online.
Most of us have heard such big names as Volkswagen or H&M called out for greenwashing and misleading claims about their sustainability practices. It doesn't matter if a brand is only emerging or well-established, companies are accountable in the eyes of customers and regulators for any harmful and deceitful conduct.
Would you like to contribute to companies being more sustainable and acting accordingly to their claims? Join the exclusive webinar on greenwashing with our unparallel speakers from the world-leading institution - The Economist Intelligence Unit, one of the most visible consultancy companies with global impact - Climate Partner, and representatives from ISM University to learn more about greenwashing.
Speakers of the webinar will discuss challenges in measuring sustainability and different existing practices. Why do many companies fall into greenwashing trap? How to walk the talk: be socially responsible and transparent at the same time?
Don't miss this exceptional opportunity to dive deep into the peculiarities of sustainability and hear from TOP experts that are actively engaged in sustainability issues.